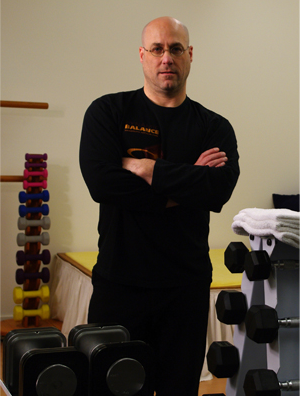 Mark St. Peter had his destiny thrust upon him in an instant, at 1:00 AM on March 28, 1987. He remembers someone saying, "You're going to be all right, buddy, you're going to be okay. Hang on, buddy. Can you hear me?" He began to sense everything was not "okay."
The last thing he could recall was walking home from a party along Fraternity Row on the University of Maine campus. It would be several weeks before he fully understood what had happened. A drunk driver coming from the opposite direction at an estimated 50 miles per hour had been distracted by someone who "threw an empty beer can" at his Ford Grand Torino.
The driver looked over his right shoulder and veered into the breakdown lane, smashing into Mark's legs. "I was privileged to bring his attention back to the road," quips Mark, who was lofted onto the windshield and pin-wheeled 40 feet into the air. The car never stopped.
Last Rites
In the weeks that followed, Mark received his last rites. It was far from clear whether Mark would live or die. To Mark it seemed as though he was as good as dead. The damage was extensive; his legs were effectively destroyed. The initial impact — the car's bumper and headlights hitting his shins — took out Mark's left knee, completely disrupting three of the four major ligaments and all but shearing off the lower leg. It also broke his right leg, producing a compound fracture of the tibia and dislocating the fibula. The immediate medical view was that amputation would be necessary for both legs and for several weeks that remained a possibility as Mark's doctors struggled to save his legs. Only after eighteen surgeries, the earliest of which were no more than attempts to save his life, did it become apparent that his right leg could be saved. However, the compound fracture of this leg led to the development of an anterior compartment syndrome, which in turn led to necrosis of several muscles that had to be excised. Mark was left with a leg severely and permanently impaired in function and grossly disfigured. Even his upper body, which had taken no permanent damage, was disheartening to look at. The bruise that covered his face and torso was dead black, and his condition was generally so unsightly that for several weeks he was not allowed to look in a mirror.
Seeds of Empathy
During this period of being so tested in mind, body and spirit, the seeds were sown for his capacity to understand and empathize with severely disabled people's state of mind. He was in the hospital for 90 days. After discharge, he spent six months in a wheelchair. Then he began to walk, first with a walker, then with crutches. More surgical procedures followed: skin and bone grafts and the ongoing removal of the hardware that held parts of his body together. Mark began his personal struggle to rehabilitate himself just two months after his accident. These early efforts to help himself recover formed the underpinnings of his mastery of rehabilitative therapy and the foundation of his deep understanding of adaptive therapeutic exercise. In Mark's view, once a patient's initial trauma has been reasonably stabilized, no one is in such bad shape that there is not some place for him or her to begin efforts at self-help once certain mental hurdles are cleared. For three years, Mark underwent numerous therapies and had working relationships with half a dozen physical therapists. Although he did not know it at the time, the lineaments of his future professional life began to take shape during this period. He only slowly realized the trauma that had all but destroyed his life was also the stroke of fate that would determine the course of his life's work.
Shaping the Future
If Mark's professional destiny was violently thrust upon him that day on Fraternity Row, temperament and fate had already conspired to prepare him for it. From boyhood Mark had aspired to a career in sports, and early on in his college career he had decided to become the world's greatest sports psychologist. It was with this in mind that he began carrying a double major of physical education and psychology. This was still his ambition when, he was able to return to school, first in a wheelchair, then on crutches. However, the accident had hurt more than his body. He was damaged in spirit and morale, in his life force and his faith in life; damaged also was his will to work and study. The recovery process itself demanded so much of his attention and time that maintaining interest in school became difficult and he began to think differently about the future. Disabled or not, Mark is intensely physical by nature, and everything in his inclination and education had a physical slant. He remained an athlete in mind and spirit, and he knew that the desire to stay in shape would never leave him.
The Gift of Healing
After finally completing his degrees, he spent three months of driving across the country, visiting friends, and meeting people. He found work as the fitness director of a health club in San Francisco. He quickly noticed that almost every club member and many trainers could benefit from remedial instruction. Even professional athletes need knowledgeable specialists to help them restore the anatomical balance lost to the excessive demands of sport. He began to develop skills and uncover talents both as a healer and a trainer. Over the next 20 years, Mark developed unique insights into how bodies work, along with a wide repertoire of specialized training and therapeutic skills. By taking a personal approach with clients, he realized, he could help people in ways that would improve the quality of their lives. He did not see them merely as clients entitled only to standard "pat-on-the-back services." He regarded each one as an individual with a personal need for specialized training and therapy worthy of his best attention and full respect. By the early 1990s, he was working closely with colleagues—therapists, chiropractors, MDs, and others—all of whom had remarkable skills in reading a body, and many of whom were also skilled in manually correcting misalignments and imbalances. These influences melded with Mark's academic studies in physiology, kinesiology, learning theory, testing and measurement procedures, and sports coaching. New exposure to bodywork and training systems sparked immediate synergy with his existent knowledge, personal experience, and athletic history. In the late 1990s, he began to consider how to bring the instruction and intimacy of his private services to a larger audience. Though it is unlikely that any mass instruction format will ever equal the attention of a one-on-one session, modern media has evolved to the point that it is time to try.
Get Results!
Mark's system (or anti-system as he likes to think of it) works. His work became increasingly known as word got out about his success in treating clients, some with seemingly intractable problems.
A young woman with scoliosis reported that her doctor was amazed at the improvement in her back and hip structure.
A motorcyclist with a crushed hip and pelvis and multiple arm fractures now leads an active life, including cycling, with only minor discomfort, astounding his doctors with the extent of his recovery.
Another client, substantially wrecked in a mountain bike accident, was pinned together by surgeons and, having been wheelchair-bound and still hampered by a fused ankle, was struggling to learn to walk again. Mark was able to restore mobility in the injured ankle, and the client was able to return to his work as a dentist—and to resume biking.
Mark has had notable successes in training national champions in competitive aerobics, in-line skating, and distance running.
He provided members of Team Pathfinder with a detailed training program, to prepare them for the Eco-Challenge in British Columbia.
A professional in-line skater, who appreciates Mark's skills in injury rehab, as a trainer, and in analyzing and correcting structural faults, won the best-known in-line race, the 95-mile Athens/Atlanta Ultramarathon.
Mark was instrumental in helping another skater to a 24-hour world record marathon.
He helped a professional baseball player with a shoulder problem quickly improve his range of motion and mobility after treatment by a variety of other professionals. He described Mark as "one of the best."
He continues to work with private clients from all walks of life, extending and refining his "anti-system." He works with the hope that his contribution to body craft will be as valuable as others who have preceded him. But Mark's major objective has already been achieved: he has demonstrated, beyond possible doubt, that a severe physical handicap need not be a permanent obstacle to high levels of achievement in life and that anybody – indeed, any body – can benefit from restructuring.