Kinetic Hygiene Zoom Class: A Free Online Class That Helps You Fix Posture
While also helping to reduce back, neck, & shoulder pain.
Kinetic Hygiene
Free Class Starts Every Wednesday at 6pm-7pm PST
Don't struggle with poor posture alone, join our group class and take the first step to fixing your posture, looking better, and eliminating aches & pains.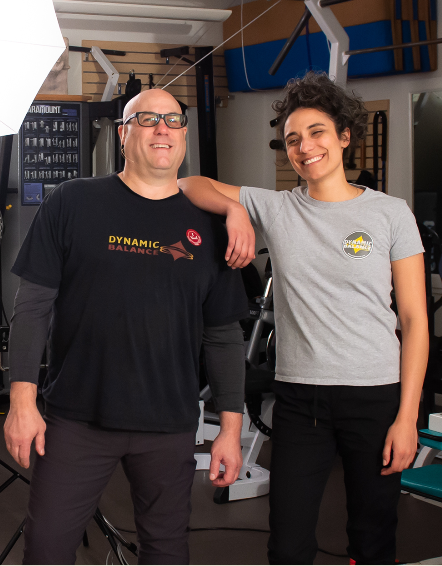 We make you this promise
Attend our class & do the work and you will see results.
Whether it's from a sport's injury or constantly sitting in front of a computer screen, we have seen it all. We can get you back to good alignment and enjoying daily activities again. The goal of our class is to better your spine with movements you can complete anywhere. Come join our class & let Tiffany equip you with the tools, exercises, & knowledge to fix your posture . Everyone's pain and goals for recovery are different and thus we work with you over a live zoom class to help every situation.
Fixing Posture Now, Saves You From Pain Later.
Get Help From Home. Contact us to Learn More
At Dynamic Balance, we don't just think about the immediate symptoms. We also consider the long-term effects and look to ensure the best future for our patients. Poor posture now can lead to many short-term and long-term consequences. Some short-term symptoms include tension and pain in your neck, upper back, lower back, and shoulders. Long-term consequences including exacerbated arthritis, poor circulation, fatigue, depression, jaw pain, breathing difficulties, headaches and reduced sexual function. Stop these detrimental side effects in their tracks and get excited about a future without pain.
We Lead The Field in Fixing Posture & Pain.
Our pioneering techniques combine science & decades of experience. These methods were once limited to those at our home base in San Francisco, but we have finally reached our goal to share our methods with everyone.






Chronic pain, both physical and emotional, should not be the norm. We will address your posture through movement, exercise, education, and advice. No challenge is too big or too small for our team. With over 30 years of experience, Dynamic Balance has worked with survivors of traumatic accidents, disease, & chronic degeneration. Don't suffer in silence. There is hope. It starts with our free class or a free consultation, contact us today.
Want to receive expert support on any posture question? Become a member.
Want 1-on-1 help? Private online sessions will speed up the process. Consultations are free.